Description
Women's Haute Couture Black Wide Brim Designer Grey Feathered Hat For Special Occasion Weddings And The Kentucky Derby. This fashion hat is adorned with dramatic Soft grey rooster hackle feathers. This black fashion hats offers you a choice of custom hat and feather color choices. This is a custom made hat designed and made by HatsKentuckyDerby.com. This dress hat is suited for Winter, Spring, Summer And Fall. A perfect special occasion hat for the Kentucky Derby, weddings, brides, bridal functions, formals, Church and holidays.
Material: Polypropylene Straw Braid Hat Base – Crown Exposed – Wide Brim Covered In Feathers
Head Size 22.5″ Fits Most Women – Round Style Crown
Wide Brim Measures 5-6 ″ across, depends on feather length. Feathers vary in size because they are a natural product
Condition Is New – Custom Made
This Formal Feathered Custom Made Hat Is Suited For Winter, Spring, Summer Or Fall.
We Specialize In Designer Hats For Women, Hats For Weddings, Custom Made Hats For Spring, Bridal Hats, Kentucky Derby Hats, Formal Hats For Women, Church Hats, Hats For Holidays, And Special Occasion Hats. This Fashion Hat Is Suited For Wedding Guests, Formals Events, Horse Racing Events, And Church. This Elegant Hat Custom Made By Hats Womens, hatswomens.com
All Sales Are Final.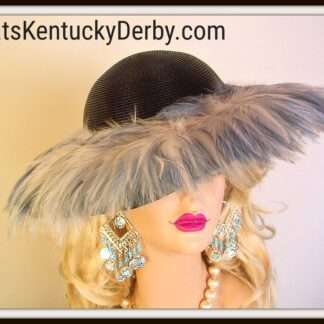 Shop NY Fashion Hats – A Leader In The Millinery Industry
Shop Vintage Pins Brooches For Kentucky Derby Horse And Jockey Brooches